Triethylene Glycol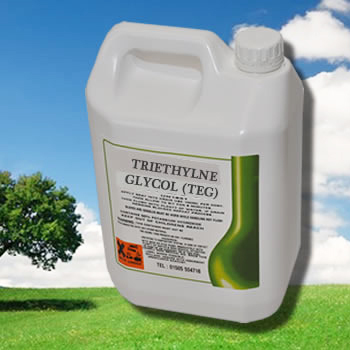 Triethylene Glycol
Our firm specializes in providing a quality array of Triethylene Glycol that is highly used in Natural Gas Dehydration, Plasticizers, Conditioning agents etc. The offered glycol is processed by our adept vendors using supreme quality chemicals and latest methodology. Further, this is also rigorously tested by adroit quality controllers against set quality parameters to ensure their colorfastness. Our clients can avail this Triethylene Glycol in various packaging options from us at industry leading prices.
Features:
Free from ionic impurities

Safe to use


Chemical resistance
Triethylene Glycol (TEG) is produced as a byproduct in the manufacture of MEG. TEG is a colourless liquid with a high boiling point. It is most hygroscopic in nature, amongst Mono & Diethylene Glycols. TEG is miscible with water, alcohol, ether, acetone but is insoluble in benzene and it is homologous. TEG is a stable non corrosive chemical with a high flash point.
TEG finds end use in Natural Gas Dehydration, Plasticizers, Conditioning agents etc. At normal temperature and pressure, TEG can be easily transported in Mild steel tankers, internally coated with an epoxy paint. Similarly, TEG can be stored in MS containers lined with baked phenolic resin / air drying epoxy phenolic resin or vinyl resin. It is advisable to store TEG in a cool, dry place with good ventilation - away from heat, sparks or flames. Care should be taken to prevent TEG from mixing with strong acids, bases and oxidising materials.
Triethylene Glycol (TEG) is a straight-chain dihydric alcohol aliphatic compound terminated on both ends by a hydroxyl group. It is a clear, practically colorless and odorless, hygroscopic liquid at room temperature.
Applications
Unsaturated polyester resins
Lubricant and coupling agents
Humectants and dehydrating agents
Polyester polyols
Plasticizers
Solvents
Triethylene glycol is used as a dehydrating agent for natural gas, a solvent and lubricant in textile dyeing and printing, a plasticizer, a raw material for the production of polyester resins and polyols, a humectant, a constituent of hydraulic fluids, a selective solvent for aromatics.
SPECIFICATION
Property

Specifications

Test Method

Acidity (as acetic acid), wt%

0.01 max

ST-31.46, B

Appearance Distillation, oC

Clear and substantially free of suspended matter

ST-30.1
ST-32.1

IBP

278 min




95%

295 max




DP

300 max




Color, Pt-Co

25 max

ST-30.12

Water, wt.%

0.1 max

ST-31.53, 5
Additional Information

| | | | |
| --- | --- | --- | --- |
| Regulatory Information | | Typical Physical Properties | |
| DOT/TDG Classification | Not regulated | Boiling point, mm Hg. oC (oF) | 288 (550) |
| HMIS Code | 2-1-0 | Flash point, COC, oC (oF) | 168 (335) |
| WHMIS Classification | Class D-1B: Toxic | Freezing point, oC (oF) | -7.2 (19) |
| CAS Number | 112-27-6 | Molecular Weight | 150.17 |
| | | pH | 7 |
| Chemical control laws | | Specific Gravity, 20/20oC | 1.13 |
| Australia, AICS | Listed | Vapor pressure, mm Hg, 20oC (68oF) | <0.1 |
| Canads, DSL | Listed | Viscosity cSt 20oC (68oF) | 43 |
| Europe, EINECS/ELINCS | Listed | VOC content by ASTM D2369 | 6% |
| Japan, METI | Listed | Water Solubility 9%) | >10 |
| United States, TSCA | Listed | | |